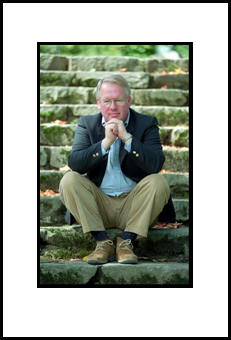 Recent political arguments over religion have turned light on a welter of anxieties about irreligiousness in the United States. As seen on the stump, Republican presidential hopefuls have taken to upbraiding unbelief, or what Newt Gingrich denounced last month as "the growing culture of radical secularism." Less incendiary but equally worried assessments have come from even-tempered observers like Harvard University law professor Mary Ann Glendon. She wrote earlier this month in America magazine that the "changing religious landscape in the United States … should set off alarm bells" together with what she considers the current assault on religious liberty. The landscape Glendon fears is one with fewer Americans, notably young people, claiming a religious affiliation.
In moments like this it's useful to go back to first principles. Why should political leaders be so concerned about the growing presence of the undevout? What would be the compelling public interest in throttling back this trend?
One reasonable answer would be that a good society depends on good people, and organized religion has traditionally been the primary source of public virtue. True enough, but there are other sources as well, secular traditions of moral reasoning reflected in philosophical and common sense ethics (more on that in a moment). In any case, what the worriers fail to appreciate is that the secular souls are among us. They're here to stay—perhaps in greater numbers than ever. This simple fact would seem to call for a more pastoral approach to the nonreligious, as distinct from demonization or handwringing.
One person who understood this better and earlier than anyone was Rushworth Kidder, writer, ethicist, and president of the Institute for Global Ethics in Rockport, Maine. Word came last week that this author of such popular books as How Good People Make Tough Choices died of natural causes, at age 67. I chatted with Rush a few times over the years and interviewed him at length for a 2007 book I did with Bob Abernethy. We titled the section including his remarks, "The Good, without God."
Rush himself was not without religion—he was a Christian Scientist and one-time columnist for the Christian Science Monitor. But he was keenly responsive to the many people who seek the ethical life apart from religion and spirituality; he spent much of his time over many years with them, in seminars he offered for schools, businesses, and other groups. When we spoke, I asked him about those people who do not have religious reasons for wanting to reason morally. Here's part of his reply.
It's probably the oldest question in moral philosophy—why be moral? After all, the manifest advantages of the immoral life are lying all around us. If you want something, just steal it. Why bother to be truthful if you could lie?
Probably the oldest answer to that question is—because that's what God wants. That was, for a long time, the accepted and rather standard answer in the United States….
Here, in the early twenty-first century, it is still a powerful answer for a lot of people…. But it is not and cannot be allowed to be the only answer. We're not willing to assume that people who don't have that framework not only aren't ethical, but can't be ethical or in some ways don't deserve to be ethical. There's too much of a polyglot and varying theology in this country today, and there are too many people who deliberately have no theology for us to rule them out and say, "Yes, we're assuming that when you don't have a god, you don't have ethics."
… There are three major ways in which individuals resolve ethical dilemmas, and at least two of these come straight out of the largely secular tradition of moral philosophy. When somebody says, "Look, I try to do what's best for everybody—the greatest good for the greatest number," that person is drawing on John Stuart Mill's utilitarian philosophy. Using a different principle, the teacher who says to a five-year-old kid, "Gosh, Johnny, if I let you do that, I have to let everybody do it," is actually speaking a fairly pure form of Immanuel Kant's categorical imperative—the idea that the only viable moral decision is one which universalizes what you're doing, so that if you can't say you'd want everybody in the world to do what you're about to do, then you're about to make an unethical decision. Third, there's the Golden Rule—do to others as you would have them do to you—which typically comes to us from a religious source but is as commonplace as the Native American adage, "Don't judge somebody until you've walked a mile in their moccasins."
Just observing the twenty-five thousand people who have gone through our seminars in the past fifteen years, we find them resorting to these three standards again and again. So whether they know it or not, there's a structure in place, and you'll notice that nearly everything we're talking about here has no reference to religion. And we've noticed there isn't any salient distinction between the moral reasoning capacities of people who are religious and those who are not religious.
A Question about the Future
At the end of the interview, Rush added this caveat to his otherwise hopeful assessment of secular moral reasoning:
For me, the question is: Is it possible to lead the ethical life apart from the religious or spiritual life, without simply continuing to drain down the reservoir. In other words, I wonder whether we are, in fact, living off the accumulated moral capital of the past. That capital was largely put into place in a theological context. Yes, I'm sure it's possible to lead the ethical life now and to help others lead that ethical life. But will we be effective at creating entire cultures of integrity, rather than little pockets of character throughout society, if we try to do it absent a set of theological constructs that posit a divine purpose underlying human ethics? I don't know the answer to that. …read more