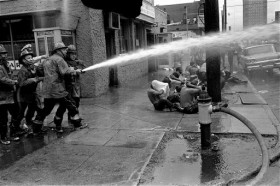 In the spring of 1963, African American children were laying their little bodies on the line in Birmingham, Alabama. Thousands of them, as young as six years old, strode out of schoolhouses to join in the marching downtown—several times during one of the most chaotic and brutal episodes of the civil rights movement.
During a surreal scene in May, elusive bands of schoolchildren skittered down streets almost playfully—chased by police with batons and dogs. Eventually they and many other nonviolent resisters were clubbed or smacked down by high-powered fire hoses or just dragged into paddy wagons off to jail. Breaking through the bedlam, through the singing and screaming and blaring of sirens, was what biographer Stephen B. Oates framed as the "haunting voice" of Dr. Martin Luther King:
We must say to our white brothers all over the South who try to keep us down: We will meet your physical force with soul force. We will not hate you…. Do to us what you will. Threaten our children and we will still love you…. Bomb our homes and go by our churches early in the morning and bomb them if you please, and we will still love you.
King projected through his megaphone not only a resoluteness, but also a longing for what he limned on other occasions as "the beloved community." This vision of social communion is usually gleaned from his iconic "I Have a Dream" speech at the Lincoln Memorial in August 1963, but King invoked the concept as early as 1955. At the time he declared that the purpose of the Montgomery Bus Boycott was nothing less than "reconciliation … redemption … the creation of the beloved community."
A Movement's Theology
Before King came along, the theme had kicked around Protestant theology for decades, more or less as a shibboleth of theological optimism. King gave the idea a certain soberness, and as University of Virginia theologian Charles Marsh notes, he infused it with moral urgency.
In his hands, the beloved community became the "realization of divine love in lived social relation," in Marsh's words—never fully realized but always an object of human striving. Marsh (his 2005 book is The Beloved Community: How Faith Shapes Social Justice, from the Civil Rights Movement to Today) and other writers have shown how the motif threaded through King's writings and speeches until the end. It gave the freedom struggle its theological trajectory.
King had rooted the principle partly in what he considered a fact of human existence, that we are social by nature, interdependent with one another. "The solidarity of the human family" were words he frequently spoke in this vein, Kenneth L. Smith and Ira G. Zep observed in their 1974 book Search for the Beloved Community.
He could see the obstacles ahead. While battling legal segregation, King contemplated a future, subtler enemy: "spiritual segregation," the mistrust and distance between blacks and whites that would continue to forestall a beloved community.
Not even racial harmony would usher in the great community, in his mind (as he made clear in his 1967 book Where Do We Go From Here: Chaos or Community?). A further requirement was economic justice, a bridging of chasms between rich and poor.
Fast Forward
Earlier this month, the Brookings Institution and the Public Religion Research Institute released the results of an opinion poll casting light on simmering resentments in the body politic.
For instance, a (slim) majority of white Americans polled—51 percent—agreed with the statement, "Today discrimination against whites has become as big a problem as discrimination against blacks and other minorities." Among those who say Fox News is their most trusted source of information, 70 percent held the same view.
What lies behind this myopia might be hard to pinpoint. Economic anxiety? An African American president? Recollections of purely race-based affirmative action? Or simply, the unrealized dream of a beloved community.
King himself seemed to think this community would always be not yet. At times he made it sound like a spiritual construct to be made flesh in the Kingdom of God. He also wielded the phrase when preaching about the endless struggle against evil, in which God ultimately prevails, as Smith and Zepp pointed out.
Less cosmically, King had faith in the human capacity to approximate the beloved community, here and now. He saw the civil rights movement, spanning racial lines, as a microcosm of the ideal.
Detecting a Pulse
Where are the signs of such approximation today?
Earlier this year the New York Times ran an eye-opening series titled "Race Remixed," which explored interracial marriage and the growing numbers of mixed-race Americans. Surely this is a mark of spiritual integration.
Beyond race, polls for over two decades have shown that lopsided majorities of Americans favor higher minimum wages for the poorest workers. Whatever one might think of the wisdom of such a proposal, the impulse is a moral one. It's an instance of social solidarity, not economic self-interest. Boosting the bottom wage would give no direct lift to most wage earners.
There are, even in these polarized days, the glimmerings of a true political community, if not a beloved one. …read more