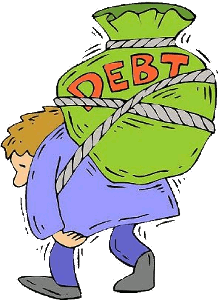 On the eve of sequestration—the indiscriminate federal budget cuts—various interests are aiming to capture the moral high ground of the debate over government spending. Which raises the question: What exactly is the moral argument for slashing deficits and balancing budgets?
I'm very familiar with moral and religious appeals against budget cuts, particularly those affecting the poor. This week, for example, nearly 100 religious leaders issued a public appeal for Congress and the president to leave anti-poverty programs off the chopping block, declaring—"God calls for protection of poor and vulnerable people."
Less clear is the moral case in favor of the meat ax. Yes, deficit hawks will deploy the language of moral responsibility, especially with regard to future generations that are allegedly endangered by government spending today. But these appeals are seldom grounded in moral and biblical principles such as solidarity, human dignity, and our collective obligations to "the least of these." It's mainly liberals (of a spiritual sort) who trade in such precepts.
On the right, perhaps the most identifiable moral claim is the generational one—that we are saddling our children and their children with a crushing debt burden. There's room for debate about how unreasonable that burden will be, and whether fiscal austerity right now, in the midst of a still-undernourished economy, is a smart way to deal with the problem.
But there are larger questions about the generational argument. For example: Do our obligations to the future extend only to the national debt? Do our children also need good schools to get them started on their paths? Are we going to hand them a public infrastructure (roads, bridges, etc.) that isn't crumbling all around them? And what about environmental protection—one of our most profound obligations to generations yet unborn?
All of that requires public investment now, and has to be balanced with the goal of easing the debt burden.
I'll keep watch for moral content in the arguments for balancing the government's books, and speak with some thoughtful fiscal conservatives on that score. I'll report on those sightings and conversations before the next partisan crisis—which is due in late March, when the government runs out of money. …read more